About IMT
>> Latest Issue
1.Overview
The Association for Natural Language Processing, the Human Interface Society, the Information Processing Society of Japan, The Institute of Image Information and Television Engineers, The Japanese Society for Artificial Intelligence, the Japan Society for Software Science and Technology, and The Database Society of Japan established a joint editorial board to disseminate technical publications to the international community by jointly building and maintaining archives of technical papers published in separate journals in respective academic societies. The archives are called Information and Media Technologies (the IMT archives) and the joint editorial board (the editorial board).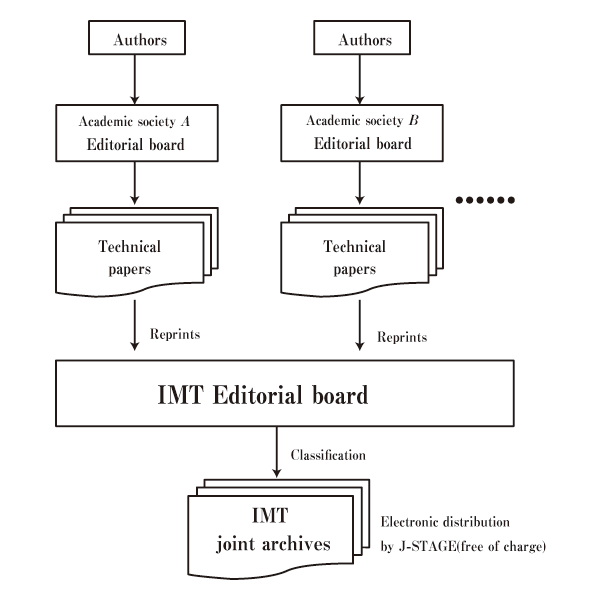 Figure 'P: Framework of Information and Media Technologies
2.The Framework
The editorial board collects reprints of technical papers published from academic societies participating on the editorial board and accumulates them as joint archives accessible from the Internet. Each volume of the IMT archives starts January 1st of each year. Each volume consists of four numbers, to be released in March, June, September and December.

The IMT articles are classified into five categories.
Category A:Hardware and Devices
Computer Hardware, Displays, Sensors, I/O devices, and Electronics
Category B:Computing
Computing Theory, Algorithms, Computer Software, Computer Architecture, and Database Systems
Category C:Media (processing) and Interaction
Human Computer Interaction, Human Interface, Artificial Intelligence, Natural Language Processing, Document Processing, Music Processing, Acoustic Processing, Computer Vision, Signal Processing, and Computer Graphics
Category D:Computer Networks and Broadcasting
Computer Networks, Mobile Computing, and Ubiquitous Computing
Category E:Information Systems and Applications
Industrial Applications, Information and Humanity, Education, and Entrepreneurial Engineering
URL(DOI/JOI) is displayed on the cover page of each article of the IMT so as to make it accessible by its unique URL.

IMT's own reference is given to each IMT article for indexing. A reference to the original paper is displayed on the header of each IMT article.

The IMT archives are based on J-STAGE, and are distributed on the Internet free of charge.