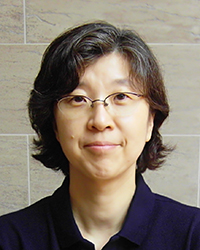 【講演概要】Bioinformatics involves theory, application, development of algorithms and software tools to solve problems and generate hypotheses over a wide range of biological sciences. Ever since the human genome sequencing, biology has turned from laboratory-based discipline into integration of experimental and information sciences. Bioinformatics has been contributing to biological sciences by providing software tools that can manage datasets too large or too complex to process and understand by manual analyses.
In proteomics (study of active proteins in a cell), most common technologies have been built around mass spectrometry, which allows us to identify and quantify proteins, discover and characterize protein modifications in a high-throughput manner. In addition, recent studies enable elucidating protein structures and their dynamics.
We have been developing various core algorithms that help us analyze mass spectrometry data. Dynamic programming approaches have been taken to sequence peptides and characterize protein modifications in an efficient manner while keeping the search space under control. Machine learning approaches helped us to optimize statistical validation processes and adapt parameter settings to experimental conditions.

【略歴】Dr. Paek received her Bachelor's degree from Dept. of Computer Engineering, Seoul National University and did her graduate studies at Dept. of Computer Science, Stanford University, California. In her Ph. D. thesis, she provided an innovative formal model that can be used to represent causal reasoning in terms of "knowledge states" of a reasoner, where such knowledge states are represented as logical statements of first order logic, which is at the core of declarative approaches in Artificial Intelligence.
After returning to Korea in 1991, Dr. Paek had joined a research project led by Prof. Young-Taek Kim at Seoul National University that aims to automatically translate between English and Korean sentences. She then joined a corporate research center and had worked on intelligent user interfaces that make use of natural language processing as well as automatic information extraction from natural language texts.
When she started her academic career in 2001 after five years of industrial research, she started to work on a bioinformatics project that involved development of various software tools that can be used for proteome research such as pattern search, pattern discovery, and pathway visualizer and editor. This project has led her attention towards in-depth understanding of proteomics data such as those from gel electrophoresis and mass spectrometry. She has been working on developing core algorithms and intelligent solutions that can effectively analyze mass spectra that can identify protein sequences and their modifications, evaluate a quality of a spectrum before any interpretation, quantify expression levels of proteins, and identify and predict monoisotopic masses of target molecule. Her recent work involves integrating proteomics and genomics to better understand cancer so that early diagnosis and/or personalized medicine can be made possible.
She is a professor at Department of Computer Science, Hanyang University and has been a member of National Academy of Engineering in Korea since 2016.