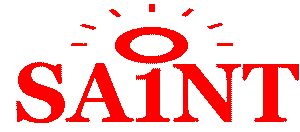 Getting to Hiroshima: How to access (from Hiroshima Convention & Visitors Bureau website)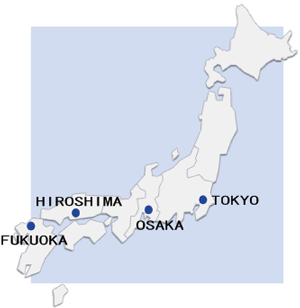 There are regular direct flights to Hiroshima Airport (HIJ) from Seoul, Beijing, Shanghai, Taipei and Bangkok Also regular direct flights to Fukuoka Airport from 17 different cities.

* From Hiroshima Airport bus shuttle service is available to the central Hiroshima Bus Terminal (50 min., 1,380 JPY). From the bus terminal, the two SAINT hotels are a 15 min. walk or a short 5 min. taxi ride (approx. 700 JPY).

* From Fukuoka Airport, Take subway from Airport Station in the domestic passenger Terminal 2 to Hakata Station (5 min. 250 JPY). Change to Shinkansen "Hikari" or "Nozomi" to Hiroshima station (70 min, 8900 JPY). To the two SAINT hotels, 7 min by taxi or take Street Car (for Hiroshima-Kou via Kamiya-Cho) at Bay 1 near the South Exit. It takes 10-15 min to Station where you get off. (150 JPY)
Many particpants will use Kansai (KIX) in Osaka or Narita (NRT) in Tokyo as their entry point to Japan.
* From Kansai International Airport take the JR "Haruka" Express train to Shin Osaka Station (45 min., 2,980 JPY) where you can board the Shinkansen to Hiroshima (1hr. 45 min., 10,150 JPY).

* From Narita International Airport, Take Train to Tokyo Station then change to Shinkansen "Hikari" or "Nozomi" to Hiroshima. (4 hrs, 17,540 JPY)
In the Peace Memorial Park,
1-5 Nakajima-cho, Naka-ku,
Hiroshima 730-0811
TEL 082-242-7777 / FAX 082-242-8010
http://www.pcf.city.hiroshima.jp/icch/
*
From the Airport: Airport bus shuttle service is available to the central Hiroshima Bus Terminal (50 min., 1,380 JPY). From the bus terminal, 15 min. walk or a short 5 min. taxi ride (approx. 700 JPY).

*
From Hiroshima Station: 7 min by taxi or take Street Car (for Hiroshima-Kou via Kamiya-Cho) at Bay 1 near the South Exit. It takes 15 min to Chuden-Mae Station where you get off. (11th Stop, 150JPY)
[Street Car Map] [Street Car Info]